Год производства: 18.02.2018 г.
Страна: США
Жанр: Teen, Petite, Gangbang, IR, Big Black Cock, Cuckold, Blonde, Facial, Fetish, Hairy, No Tattoos
Продолжительность: 00:29:26
Студия: CuckoldSessions.com / DogFartNetwork.com
В ролях: Lily Rader
Описание: Lily Rader and her man are in all sorts of trouble...and about to get into more! They're broke, they're unemployed, and they need money...fast! They've decided to do something "sketchy", so they're meeting with a man who steals identities in order to get with their crew. "It's a white-collar crime," Lily's boyfriend says. "It's not like we're drug dealers! If we get caught, white-collar criminals never go to jail! Besides, we're white!" Lily loves her man, and she's willing to do anything he says...so when he tells her to dress like a "white trash whore" for their meeting, she does. "We don't want them to think we're cops!" Well, the crime gang is going to make sure they're not cops, and they're going to do it their way! Their way is an old-school gang bang, right in a dirty garage! Lily is afraid at first. Who wouldn't be? Big, black men in ski masks, their enormous cocks hanging out of their pants! Oddly enough, this arouses Lily, especially with her man there to watch and jerk off while the gang bang goes down! At the end, Lily Rader, coated in cum, has proven she's no cop...and her boyfriend? Yeap, he's a cuck!
Тип HD видео: 1080p / 720 / 432
Формат видео: MP4
Видео: AVC, 1920x1080 (16:9), 59.940 fps, 10 000 Kbps (0.080 bit/pixel)
Аудио: AAC LC, 48.0 KHz, 2 ch, 128 Kbps, CBR (English)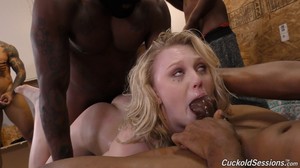 cuc18.lily.rader1080.mp4 - 2.08 GB
Lily_Rader_-_My_Boyfriend_Cuckold__18.02.2018__432p.mp4 - 331.10 MB
Lily_Rader_72O.mp4 - 962.57 MB