Administrator
Команда форума
Год производства: 2017 г.
Страна: USA
Жанр:Transsexual Gonzo Anal
Продолжительность: 01:29:54
Режиссер: Dana Vespoli
Студия: Transsensual
В ролях:Chad Diamond, Jaxton Wheeler, Ruckus XXX, Sebastian Keys, Casey Kisses , Natalie Mars, Nikki Vicious , Stefani Special
Описание:Gorgeous TS bad girls break hearts in this new title from TransSensual. Personal assistant Chad Diamond when his socialite boss Casey Kisses has laryngitis and refuses to let him take the day off. Goofy hipster Ruckus gets taken advantage of after coming home from a date with Nikki Vicious. Bratty Stefani Special breaks boyfriend Sebastian Keys' heart after he catches her trying to move out of their house without telling him, and finally, realtor Natalie Mars has her eyes set on potential buyer Jaxton Wheeler.
Разбит на эпизоды
Тип HD видео: 540p
Качество видео: WEB-DL
Формат видео: MP4
Видео кодек: H.264/AVC
Аудио кодек: AAC
Видео: 960х544 16/9 29970 fps 1500 kbps
Аудио: AAC Dolby Digital, 44.1Hz, 2ch, 192 kbps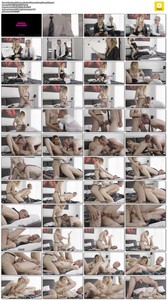 ABadGirlsGoodbye_s03_JaxtonWheeler_NatalieMars_540p.mp4 - 236.97 MB
DirtyDeedsMakeTheDeal_s04_StefaniSpecial_SebastianKeys_540p.mp4 - 276.56 MB
EagerToPlease_s01_ChadDiamond_CaseyKisses_540p.mp4 - 269.02 MB
TeasedPleased_s02_Ruckus_NikkiVicious_540p.mp4 - 305.32 MB